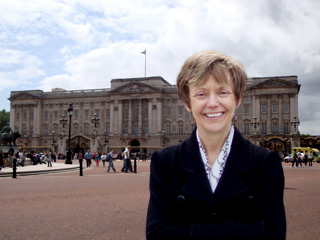 What a treat it was for me to host the first international Listening Tour event in London earlier this week. I had the opportunity not only to meet some of our alumni, family, and friends but also several current students including one who was visiting for spring break and four who are studying abroad this semester. The Swarthmore community hasn't had many opportunities to come together in England; it was wonderful to see how quickly and completely everyone became engaged. I hope that we will continue to strengthen our connections to the members of our international community in the coming years.
We talked about many things Tuesday evening but the conversation often returned to visibility. What are the most effective ways to create more of a presence for the College in London and overseas, both to enhance our recruitment efforts and to help place our students in good jobs upon graduation? We have two distinct challenges in this regard — increasingly, British students want to come to the U.S. for their post-secondary education but think that only a handful of the Ivy League schools are worth considering. At the same time, few British employers know much about Swarthmore so it's difficult for our alumni to land the best jobs after graduation.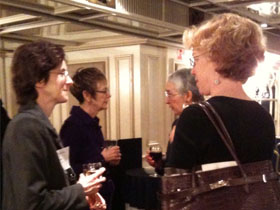 One of our alumni pointed out that the term "college" is not well understood in the UK. For British families, this denotes something less than the university education one receives at Oxford or Cambridge. So some broad education about the intrinsic value of a liberal arts degree seems crucial. Another alum suggested that we find a way to express that a liberal arts education is a natural extension of the British way of educating high school students.
Someone also suggested that we look to raise our visibility in London by attending the USA College Day hosted by the Fulbright Commission each fall. It is the largest higher education fair held in Europe. (Note that we have attended this fair in the past though not every year.) And nearly everyone at the event felt that we could be utilizing our alumni network abroad more effectively.
So I travel back across the Atlantic with these very good suggestions and urge you to send me more. I am eager to raise the visibility of the College both at home and abroad and I know that our alumni, family and friends will prove a rich source of counsel in this effort.