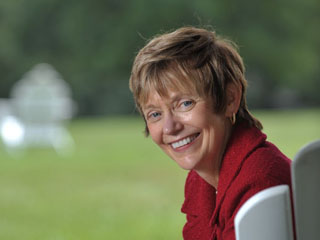 On Wednesday evening we held the first Listening Tour event in the beautiful Lang Performing Arts Center on campus. I came away from the evening impressed -- and not the least bit surprised -- by the thoughtfulness of Swarthmore alumni, family, and friends and encouraged by the support and enthusiasm for the College, and for my new role here.
In these Listening Tour events, and in general, I am particularly eager to gain, from the perspective of alumni and parents, insight into which aspects of the Swarthmore experience should endure; what values we most treasure; and how those values can help shape our decisions as we look forward to the future together.
In classic Swarthmore style, each comment or question was deep and compelling. My favorite moments, before, during, and after the formal program, included these observations from some of the people I met:
On the enduring values of a Swarthmore education: "It may not be about us retrieving the values as much as the values taking hold of us and expressing themselves through us."
On the essence of a Swarthmore education: "Both of my children chose to come here not only because of the respect they held for the level of academic excellence, but also because there is such a strong thread of commitment to community here, to making a contribution to community."
On the Quaker tradition: "Many of our founders understood how to speak truth to power."
On Swarthmore's culture of learning: "There's no such thing as a stupid question at Swarthmore. People love to teach, even students."
We covered a lot of ground in our conversation. Topics included how to engage in civil discourse, the challenges we confront because of the global financial crisis, the role Swarthmore can and should play in the region and across the country, strategic planning, the importance of need-blind financial aid, and the art of consensus building, among others.
What is clear to me from our conversation that evening, and is also positively reinforced on a daily basis on campus, is that community, collaboration, consensus, and civility are held among our most treasured traditions. I have been hearing these four C's, as it were, over and over again, in meetings with faculty, students, and staff, from alumni at Volunteer Leadership Weekend, from parents on move-in day, and certainly reinforced again on Wednesday evening.
These values began with our founders in the Hicksite Quaker tradition, and somewhat remarkably, have endured to this day. On Wednesday I was asked -- given this rich tradition of consensus building and collaboration -- how does this fit in with the need to sometimes make the tough decisions? How will I know when consensus is necessary, or when a decision must be reached even in the absence of consensus?
Here I was reminded of some very good advice I received recently from President Bennett at Earlham College. The really important thing, he offered, is to know -- and clearly say -- which form of decision making is being used and to be sure that everyone else knows. It is essential that people understand when we are reaching for consensus, and when it is not possible. In those rare instances when the latter might occur, we will always be sure to communicate that fact.
I've had to make a number of difficult decisions in my career and I'm certain we will confront some in our time together at Swarthmore. But I am also confident that we will work together in common purpose, to maintain the exceptional level of excellence at the College; uphold the commitment to social justice; and defend the rightful insistence that we engage in civil discourse no matter how far apart our views might be.
I'm grateful to the alumni, parents, faculty, staff, and friends who came to converse this week and I look forward to many more opportunities to continue our discussion. On to Washington D.C. in two weeks!