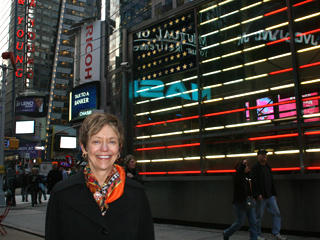 The atmosphere was electric at the beautiful, old Hudson Theatre on Broadway Wednesday night. More than 200 alumni, parents, and friends of the College engaged in lively conversation, introduced thought-provoking questions and observations, and delighted in one another's company.
We talked about what differentiates the College from other schools--what is it about Swarthmore that is, truly, unique? One alum from the Class of '57 suggested that the College sometimes tries to be "all things to all people," sounding too similar to our peers and resulting in an homogenization of Swarthmore that is neither accurate nor useful in terms of successfully telling our own "best story."
I couldn't agree more. I think it is imperative that we find a way to express our distinctiveness in order to continue to attract the very best students and faculty and to become a more visible and recognizable force in higher education.
One quality about the College that stands out for me is that our students take thinking very seriously--they love to read; they love to think; they love to work. Swarthmore students ask questions about everything; their curiosity is unrelenting. And this curiosity, which is encouraged and mentored so brilliantly by our faculty, then serves as the impetus for lifelong learning among our alumni. The classroom, extracurricular, and social undergraduate experiences with learning and thinking encourage our alumni to learn throughout all phases of the life cycle.
Another potent quality at Swarthmore is our commitment to social transformation, the applied use of knowledge and passion to transform other lives, other communities, other cultures. I would love to see the College become a leader in higher education in this area.
We will continue to talk about our differentiating characteristics as the Listening Tour continues next semester. In the meantime, I welcome any and all thoughts on this or any other subject that interests you about the College and your relationship to it. Thank you for a wonderful first semester of learning and listening about this very special place.