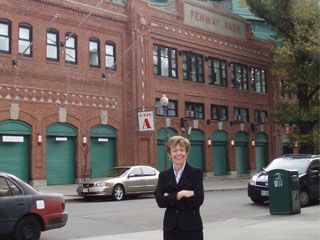 It was another great evening spent with new friends and many long-time supporters of the College. Our conversation in Boston covered much ground, including need-blind admissions and the admissions process more broadly, consensus--decision-making, the beauty of our physical campus, class size, interdisciplinary programs, and our ongoing work in and commitment to the City of Chester.
With respect to Chester, one of our alumni who worked there as an undergraduate wondered what current programs exist between the College and the city. Swarthmore continues the traditions of its founders in both the pursuit of academic excellence and the desire to apply what is learned in the classroom to improving the lives of others. We continue to be deeply engaged in Chester, through class work and honors seminars as well as through numerous initiatives coordinated or supported by the Lang Center. Our commitment to civic engagement also extends regionally to the city of Philadelphia and globally through summer research and efforts coordinated by the Lang Center, among others.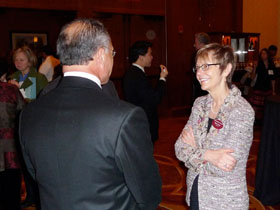 Another alumnus asked how we are motivating faculty to undertake interdisciplinary work and to model it because this is clearly the future direction of higher education. Our support for and growth in interdisciplinary offerings has vastly expanded and enriched our curriculum in recent years. Approximately 35 percent of our students major in the interdisciplinary fields of engineering, psychology, and the sciences. Our faculty recently approved new guidelines for faculty appointments suggesting that the contribution to interdisciplinary studies be a factor in all new appointments. Although not a requirement, it will be a strong consideration.
The new guidelines also stipulate that faculty consider the possibility of Tri-College interdisciplinary partnerships in all requests for additions to academic departments. This holds great promise for the expansion of our Tri-Co collaboration with Haverford and Bryn Mawr, and there are opportunities to expand upon our relationship with Penn faculty, as well.
Finally, the size and nature of the intellectual community at Swarthmore is such that faculty and students often interact with one another across disciplines, in ways both formal and informal. You might find a poet talking to a physicist or a neuroscientist sharing research findings with a linguist. The inherent intellectual curiosity of our faculty and students guarantees that interdisciplinary work will not merely exist but will grow and thrive at the College.