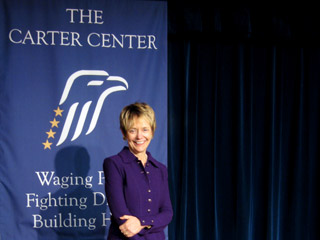 The historic storms that have been plaguing the Atlantic coast did not deter our intrepid alumni from venturing out on a soggy Tuesday evening to gather at the Carter Center in Atlanta for the latest stop on our Listening Tour. Surrounded by lovely artwork, alumni, parents, and friends of the College engaged in lively and intimate conversation bound together by a shared commitment and love for Swarthmore.
As always, we covered a wide range of topics during our conversation including helping students select majors, the intrinsic value of a liberal arts education, the influence of Quaker values on the College, and the need to maintain strong buildings and security on campus.
We also talked about the role of the humanities and whether specific "core" courses should be required. As with so many of the questions that arise on the Listening Tour, my thoughts turned to the faculty and their wisdom which helps shape Swarthmore's rich intellectual life. As each of these questions are asked, I appreciate how carefully the faculty address these questions day in and day out, as it is they who establish the curriculum and guide the academic enterprise in every meaningful way. I am also reminded, again, how fortunate we are to have such amazing talent at our school.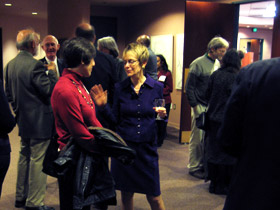 I mentioned a few of our faculty in my opening remarks. Historian Pieter Judson, Class of '78, is a member of our faculty who has been honored recently. Pieter recently received an NEH Fellowship, has been appointed to the American Academy of Berlin for the spring semester, and to top it all off, in the same week it was announced that the government of Austria is honoring him for a book he wrote about the country. Charles Keleman of the Computer Science Department has just been named among the top educators in computer science in America. One of our visiting faculty members from Germany, Hans Ludemann is a jazz virtuoso who specializes in and blends the jazz cultures of Germany, America, and Africa, and he's been putting his skills to work on campus in very creative and imaginative ways.
I could go on...and on! The bottom line is that the essence of the College can be found through our dedicated faculty who embody the values, discipline, and rigor we most want our students to embrace and cultivate — not only as students — but throughout their lives. And indeed, they do.