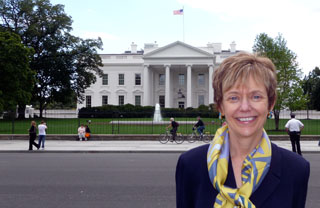 What a great night spent with alumni, parents, and friends of the College at the Mayflower Hotel in Washington D.C.! Nearly 200 of us gathered to talk about a number of issues of shared interest, including the College's potential leadership role in higher education; the search for a new dean of students; how the current economic climate is affecting our budget choices; the different ways our alumni can be engaged; and the importance of inclusivity and diversity in our mission.
Once again, I was impressed by the thoughtfulness of the questions posed and the sincerity of those gathered to think through, together, the best way to move forward as an institution--one that is unyielding in its commitment to excellence.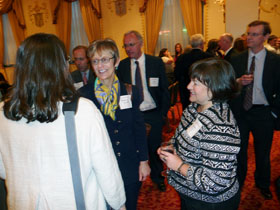 On the question of whether we can and should play a national leadership role in higher education--my immediate and enthusiastic response is: yes! As stewards and beneficiaries of one of the finest undergraduate educational institutions in the country, we have an obligation to contribute to the broader national discussion about the nature of education, its intrinsic value, and the role that liberal arts colleges can, and must play, in helping forge a more just society.
There is an anti-intellectual backdrop pervasive in nearly every discussion or debate these days. We, therefore, have to step up to the plate and address these fundamental questions: 1. What does it mean to live as an intellectual in 2009? What does this translate into tangibly? 2. How do we help young men and women learn to live proudly as intellectuals? 3. How can we best promote civil discourse, engage in civic debate, and help to build and sustain communities devoted to a more just, inclusive society?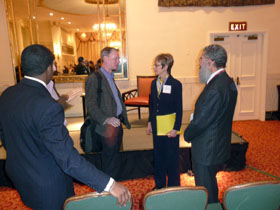 Everyone I met last night serves as an ambassador for the College in ways both great and small, but each meaningful. For those who ask what they can do to help support the College and promote its values, I offer this--if you were granted a degree from this very special place, then let others know that this is where your greatest learning about life occurred; that this was where you set your foundation; and where you willingly devote some of your resources now. Tell your friends, your neighbors, your coworkers, your children that this was the place that set you on your life's course. And what splendid lives so many of you are leading. It was humbling and energizing to be in the company of so many smart, creative, committed individuals last night. What a wondrous ride we are going to have together ....